Director: Eugen Illés

Screenplay: Hans Brennert

Set design: Paul Leni

Cinematographer: Eugen Illés

Cast: Pola Negri (Mania Walkowska - a cigarette factory worker), Werner Hollmann (Morelli - an art patron), Arthur Schroder (Hans van den Hof - a composer), Ernst Wendt (Heinz Alex - a painter)
Produced by: Projektions-AG Union, Germany

Premiered: 8.11.1918
Runtime: 85 minutes
Mania Walkowska, a good looking young employee in a cigarette factory is to become a model on an advertisement poster. She is courted by Morelli, a rich and influential art patron. But Mania is on love with Hans, who is a young composer. She inspires him to write an opera, to be staged in an opera house in Berlin. Jealous Morelli uses his influence, and Hans's work, entitled Mania, is rejected. Mania tries to convince Morelli to help Hans. He agrees on the condition that she gives herself to him on the day of the opening night. On the opening night Mania, being desperate, locks a dancer in a dressing room and takes her place on the stage. She also switches a dummy revolver for a real one…

The digital reconstruction of the movie "Mania was carried out in 2011 under the project "Conservation and digitalisation of pre-war feature films at the National Film Archive in Warsaw" (a project co-funded by the European Regional Development Fund).
www.nitrofilm.pl.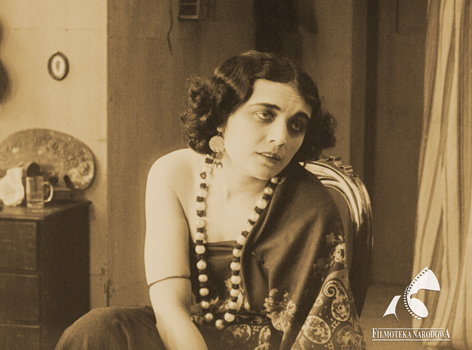 "Mania" is the result of an international cooperation between artists, from the time when silent movies crossed the national and linguistic borders. The movie was shot in Berlin in politically turbulent times; however its contents pertain to universal truths. The great artistic value of "Mania" comes from the lively narration, interesting acting and characters, as well as innovative operator's tricks, which make it a valuable relic of cinematography, among the most important silent movies. The elaborate scenery was designed by Paul Leni, later known for his direction of expressionist movies. The movie was long thought irrevocably lost. In 2006, Filmoteka Narodowa bought the nitrate copy from a Czech collector and subjected it to painstaking reconstruction process. Thanks to those efforts "Mania" was in a sense brought back to life.

MELBOURNE - online booking Classic Cinema Elsternwick BOOKING

SYDNEY - online booking Ritz Cinema Randwick BOOKING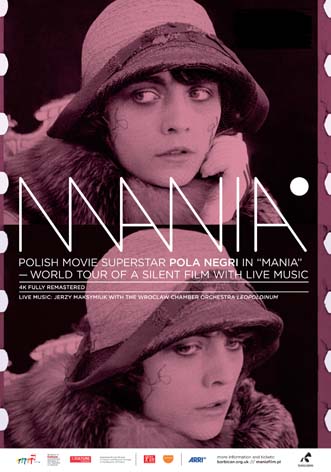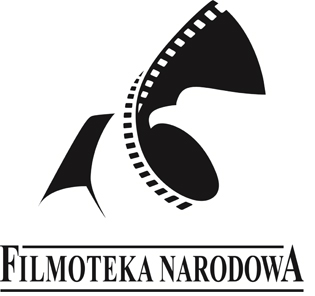 Filmoteka Narodowa
(The National Film Archive)
is the official Partner
of the presentation
of this film at our
Polish Film Festival
in Melbourne & Sydney
Reżyseria: Eugen Illés

Scenariusz: Hans Brennert

Zdjęcia: Eugen Illés

Produkcja: Projektions-AG Union, Germany

Obsada: Pola Negri, Werner Hollmann, Arthur Schroder, Ernst Wendt.

MANIA. HISTORIA PRACOWNICY FABRYKI PAPIEROSÓW - niemiecka produkcja z 1918 roku, wyreżyserowana przez węgierskiego reżysera Eugena Illésa - jest wyjątkowo cenna dla rodzimej kultury ze względu na tytułową rolę Poli Negri (Barbary Apolonii Chałupiec) - polskiej gwiazdy światowego kina. Film opowiada poruszającą historię wielkiej miłości Mani - pracownicy fabryki papierosów - do utalentowanego kompozytora Hansa i należy do jednego z pierwszych filmów w bogatym dorobku Poli Negri. "Mania" powstała w efekcie międzynarodowej współpracy w okresie, gdy kino nieme przekraczało bariery narodowe oraz językowe. Walory artystyczne filmu to: wartka dramaturgia, interesujące kreacje aktorskie, ciekawe zabiegi operatorskie oraz wyszukana scenografia według projektu Paula Leni, znanego reżysera filmów ekspresjonistycznych.
REKONSTRUKCJA FILMU "MANIA"
Przez wiele lat uznawana za zaginioną kopia filmu przekazana została przez czeskiego kolekcjonera w 2006 roku i włączona do zbiorów Filmoteki Narodowej. Jedyna zachowana na świecie kopia filmu poddana została kompleksowej rekonstrukcji w Pracowni Restauracji Taśmy Filmowej Filmoteki Narodowej, w ramach projektu "Konserwacja i digitalizacja przedwojennych filmów fabularnych w Filmotece Narodowej w Warszawie" współfinansowanego ze środków Europejskiego Funduszu Rozwoju Regionalnego w ramach XI Priorytetu "Kultura i dziedzictwo kulturowe" Programu Operacyjnego Infrastruktura i Środowisko. Obraz ten jest jednym z czterdziestu trzech digitalizowanych w ramach trwania projektu Nitrofilm (od 2008 roku) filmów fabularnych sprzed 1939 r. W pełni odrestaurowany cyfrowo (4K) film "Mania" wyświetlony zostanie z kopii DCP (Digital Cinema Projection) z odwzorowaniem oryginalnej kolorystyki filmu.
www.nitrofilm.pl.