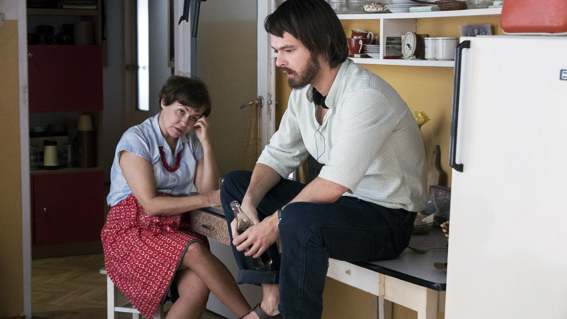 Beksiński is a gentle man suffering from arachnophobia. Despite his hardcore sexual fantasies and his fondness for painting disturbing dystopian works, Beksiński is a family man who wants nothing but the best for his loving wife Zofia, neurotic son Tomasz, and the couple's two ageing mothers. Beksiński's daily painting eventually pays off and he makes a name for himself in the world of contemporary art. Meanwhile, a good catholic woman - Zofia tries to hold the family together, especially when the troubled son - Tomasz proves to be a handful with his violent outbursts and suicidal threats. Both parents' relief is brief when Tomasz starts dating women and becomes a radio presenter and movie translator, but soon both must be on a constant watch to prevent their son from hurting himself. Beksiński never believed that family life should or would always be sunshine and rainbows, and as he tapes everything with his beloved camcorder, the 28-year-long Beksiński family saga unfolds through paintings, near-death experiences, dance music trends, and funerals... Based on the bizarre true story of the cult Polish painter Zdzisław Beksiński, this is the first narrative feature from the director of the award-winning documentary DEEP LOVE - Jan P. Matuszyński.
Film Reviews:
Exceptional camerawork and an unerring eye for period detail are boldly on display in Jan P. Matuszyński's disturbing biopic of one of Poland's best known 20th century painters. Visually and musically reproducing the era to a T, and boasting terrific lensing by Kacper Fertacz, 'The Last Family' is likely to pick up numerous awards on the festival circuit.
Variety, Jay Weissberg
The mother, Zofia (a masterly performance by stage actress Aleksandra Konieczna), the real head of the family, keeps a tight balance between her two men, runing the household which also includes her own mother and her mother-in-law.
Screen Daily, Dan Fainaru
Home is where the art is in Jan P. Matuszynski's The Last Family (Ostatnia Rodzina), a dutiful and respectful chronicle of the last 28 years in the life of Poland's foremost apocalyptic surrealist Zdzislaw Beksinski.
The Hollywood Reporter, Neil Young
The Last Family is expertly directed, with fantastic performances by actors who paid tribute to their characters on-screen.
sennhausersfilmblog.ch, Michael Sennhauser
This film will be a hit, although it won't be easy to explain why, […] It is yet another portrait of a strange family, in which Polish cinema has attained the highest level of authenticity and freedom.
Kino magazine, Tadeusz Sobolewski
About the director
Jan P. Matuszyński was born in 1984. Jan graduated in Film Directing from Krzysztof Kieślowski Faculty of Radio and Television University of Silesia in Katowice and completed the Documentary Course at the Wajda Film School. His films such as 15 YEARS OF SILENCE, AFTER PARTY, HEAVEN have been screened and won prizes at numerous festivals in Poland and abroad. Jan P. Matuszyński is most recognized for his documentary DEEP LOVE (Best Documentary Award at the 36th IFF in Moscow, the Silver Horn award for Best Feature Documentary Film at the 54th Kraków FF and more). THE LAST FAMILY is his feature film debut.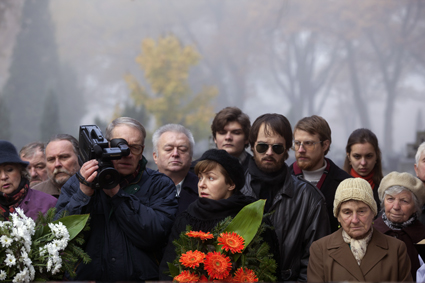 "Ostatnia Rodzina" to rozgrywająca się na przestrzeni 28 lat warszawska saga słynnej rodziny Beksińskich. W legendarne postaci Zdzisława i Tomka wcielili się Andrzej Seweryn i Dawid Ogrodnik. Towarzyszą im Aleksandra Konieczna jako Zofia Beksińska oraz Andrzej Chyra w roli marszanda Piotra Dmochowskiego. Film został zakwalifikowany do Konkursów Głównych prestiżowych festiwali - MFF w Locarno oraz FF w Gdyni. Andrzej Seweryn - za rolę Zdzisława Beksińskiego - otrzymał nagrodę dla Najlepszego Aktora na 69. Międzynarodowym Festiwalu Filmowym w Locarno 2016. Akcja filmu zaczyna się w 1977 roku, gdy Tomek Beksiński wprowadza się do swojego mieszkania. Jego rodzice mieszkają tuż obok, na tym samym osiedlu, przez co ich kontakty pozostają bardzo intensywne. Nadwrażliwa i niepokojąca osobowość Tomka powoduje, że matka - Zofia, wciąż martwi się o syna. W tym samym czasie Zdzisław Beksiński próbuje całkowicie poświęcić się sztuce. Po pierwszej nieudanej próbie samobójczej Tomka, Zdzisław i Zofia muszą podjąć walkę nie tylko o syna, ale także o przywrócenie kontroli nad swoim życiem. Gdy Zdzisław podpisuje umowę z mieszkającym we Francji marszandem Piotrem Dmochowskim, a Tomek rozpoczyna pracę w Polskim Radiu, wydaje się, że rodzina najgorsze kłopoty ma już za sobą. Jednak seria dziwnych, być może naznaczonych fatum wydarzeń, dopiero nadejdzie… Zdzisław Beksiński to jeden z najbardziej charakterystycznych polskich malarzy XX wieku, słynący z niezwykłej osobowości, poczucia humoru oraz rejestrowania niemal każdego fragmentu swojego życia i otoczenia za pomocą coraz nowszych technologii audio i wideo. Z kolei Tomasz Beksiński był kultowym dziennikarzem muzycznym i tłumaczem filmowym, mającym duży wpływ na rozwój popkultury w Polsce, m.in. poprzez promowanie takich zespołów jak Marillion, Ultravox czy King Crimson oraz tłumaczenie filmów o Jamesie Bondzie czy cyklu Monty Pythona.
Media o filmie:
Bardzo prawdopodobny kandydat do wielu nagród festiwalowych. Niesamowita praca kamery i bezbłędne spojrzenie na detale epoki.
Variety, Jay Weissberg

Ten film zrobi furorę. Niezwykła chemia łączy Andrzeja Seweryna, Dawida Ogrodnika, Aleksandrę Konieczną. Najwyższy stopień prawdziwości.
Kino, Tadeusz Sobolewski

Mistrzowska rola Aleksandry Koniecznej!
Screen Daily, Dan Fainaru

Piękna i pełna szacunku kronika.
The Hollywood Reporter, Neil Young

Niezwykła interpretacja postaci Zdzisława Beksińskiego dokonana przez Andrzeja Seweryna jest największą siłą tego filmu, który udowadnia że polskie kino ożyło.
Le Monde, Thomas Sotinel

Znakomicie wyreżyserowany i świetnie zagrany przez aktorów, którzy oddali swoim bohaterom szacunek na ekranie.
sennhausersfilmblog.ch, Michael Sennhauser

Złożony, dziwny, niesamowicie zabawny i konceptualnie fascynujący. fourthreefilm.com, Jeremy Elphick

To świetna odpowiedź na zamówienie na kino idealne. Utrzymane w rytmach, w napięciu, w gatunku kinowej biografistyki, ale także w zgodzie z indywidualnym stylem młodego reżysera.
Łukasz Maciejewski dla www.tvn24.pl